Acidic Ramming Mass / Mixes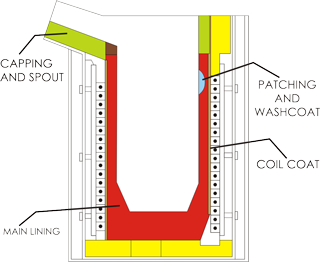 INDRAM S (Postmix / Premix)
It is quartz based ramming mix widely used in low cost melting of Mild steel, Alloy steels, Ni-hard, Ni-Resistant Chrome Irons, Ductile and Malleable Irons.
The same is available in PREMIX variant where homogeneous mixing of boric acid as a binder is done.
INDRAM FS
Fused slica based ramming mix for coreless induction furnace for melting various grades of steel at high temperatures. Due to its amorphous (non-crystalline) structure, it gives better performance at high temperatures.
| Specifications | Ind Ram | Ind Ram |
| --- | --- | --- |
| | S | FS |
| Al2O3 | < 1 | < 0.5 |
| SiO2% | 98.5 | 99 |
| Grading [mm] | 0 - 5 | 0 - 5 |
| Bond | Ceramic | Ceramic |
| Sintering Temp 0 Min. : | 1000 | 1000 |
| Application Temp 0 Max. : | 1750 | 1750 |